JULIAN LEWIS: RACING ACE – THE FIGHTS AND FLIGHTS OF 'KINK' KINKEAD, DSO DSC* DFC*
[Pen & Sword Books, 2011, HB/Kindle: to order Racing Ace online, click here or here.]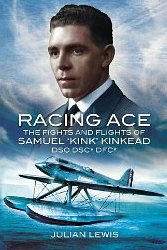 Samuel 'Kink' Kinkead won two DSCs with the Royal Naval Air Service, two DFCs with the fledgling RAF and the DSO in Russia. A brilliant pilot, post-war he was a long-range aviation pioneer and leading racing ace selected for the international Schneider Trophy race in Venice in 1927.
Tragically he was killed, aged just 31, in 1928 attempting to shatter the World Air Speed Record. He is honoured by several memorials: at Cranwell, the RAF Club in Piccadilly, at Fawley and by a permanent exhibition in the Kinkead Room at Calshot from where he set out on his final flight. Julian Lewis MP has pieced together Kink's extraordinary story of achievement during his short but eventful and glamorous life.
A fascinating account of flying derring-do both in war and in peace.
 
* * * *
FIRST SEA LORD
Admiral Sir Mark Stanhope – presiding at the book launch for Racing Ace:
[Kinkead's] professional achievements and his personal qualities are brilliantly illuminated in Julian's scholarly account … I have no doubt that this book will serve as a source of inspiration and aspiration for all of us.
* * * *
WRITERS & ACADEMICS
Andrew Roberts:
Samuel 'Kink' Kinkead was an astonishing British Empire hero, and in Julian Lewis he has found the ideal biographer who combines a complete mastery of the sources with a novelist's observational eye. Kinkead died as he lived, with preternatural courage attempting to extend the bounds of human achievement. At long last, he has a biography worthy of his extraordinary endeavour.
Andrew Roberts later selected Racing Ace as one of his three 'favourite books of the year' for the Sunday Telegraph Magazine of 27 November 2011:
'Julian Lewis's Racing Ace: the Fights and Flights of "Kink" Kinkead (Pen & Sword Aviation), about one of the bravest airmen of the 20th century, is exactly what an action biography should be'.
Professor Lord Hennessy:
Julian Lewis has brought back to life the quiet-man-of-the-air, 'Kink' Kinkead – an extraordinary figure whose short life spanned service in the Great War, the Allied expedition against the nascent Soviet Union and 1920s Iraq, before ending tragically in pursuit of the World Air Speed Record. This is a fine piece of historical detective work.
Professor M.R.D. Foot:
In this splendid book, Julian Lewis gets into the mind-set of a modest young South African airman – six times decorated for gallantry in battle – who was happy to risk his life repeatedly for causes he thought just, and for an Empire he thought worth serving.
Professor Neville Brown:
The best biographies are thoroughly contextual and this one is no exception. The narrative is rich in observation and explanation, yet still enticingly easy to read. Its subject comes across as someone quite remarkable for his sustained, adaptive, yet utterly self-effacing courage.
Professor Richard Aldrich:
Masterly in its breadth and superbly researched, Racing Ace combines a gripping story of wartime action with the wider landscapes of British political and military history.
Professor Jeremy Black:
A brilliant book, full of humanity ... A glittering triumph of well-researched scholarship, first-rate writing, and a powerful conviction of integrity, dedication, courage and patriotism.
Professor Renfrew Christie:
The book is wonderful ... the style is delightful; the depth of detail superb.
Rt Hon Hazel Blears MP:
Julian's own deep understanding of the interplay of politics and defence matters, together with his unswerving regard for the facts, gives the story veracity and power and takes it from a simple tale of courage and daring to one which illustrates and illuminates the tensions of the time … Kink's life ended in seconds, but with Julian Lewis's excellent book his memory will live on.
Keith Simpson MP:
Samuel Kinkead won six decorations for gallantry flying in the First World War and was a brilliant competitive pilot.  Part of the team that won the Schneider Trophy contest in 1927, he was killed in the Solent flying a forerunner of the Spitfire while trying to beat the 300 mph barrier.  With all the skill of a good writer and the tenacity of an experienced researcher, Julian Lewis MP has written Racing Ace – The Fights and Flights of 'Kink' Kinkead.
* * * *
JOURNALS
The Aerospace Professional (Derek N James) – September 2012:
This is certainly a book which should be acquired by all aviation enthusiasts, both as a reference and a jolly good read in the quiet hours of long winter evenings.
Books Monthly – March 2011:
An extraordinary biopic of an extraordinary, larger-than-life man. Thoroughly readable. This man could almost have been one of the inspirations for Biggles, but you have to remind yourself that, nearly a hundred years ago, such men were pushing the boundaries of air speed and safety beyond practical limits. A daredevil, an inspiration and a legend. Stirring stuff.
The Naval Review (Richard Channon) – November 2011:
... an outstandingly well-researched and many-faceted biography in which the author has skilfully interwoven the events of his hero's life with contemporary political, social and technical developments ... his narrative of the obscure events in southern Russia is as fascinating as his exposition of the terrifying difficulties of handling temperamental seaplanes ... A remarkable story of a remarkable man, in the tradition of a rattling good yarn, and most warmly recommended.
Fleet Air Arm Officers Association (Iain Hime) – November 2011:
Julian Lewis is a sometime MP and Shadow Armed Forces Minister. More significantly, he served as a seaman in the RNR and earned a Doctorate in Strategic Studies at Oxford. No doubt these disparate elements of his life contribute to his refreshingly different style of writing.  His research has been impeccable and amazingly comprehensive ... [Lewis] takes this information and weaves it together with contemporary debates on strategy and policy at the highest level. The result immerses the reader in the events and gives him a feel for life in the early flying services ... The final chapters of this book are remarkably poignant and revealing of the man. The reporting is often beautiful and the author is clearly moved by the events. As the book's cover observes, with accuracy, this 'is a gripping tale of dauntless courage and derring-do – Biggles with a sad ending'. Read it! You won't be disappointed.
RUSI JOURNAL (Paul Beaver) Vol.156, No.5 – October/November 2011:
This is a masterly exposition of storytelling about a gallant young man who died flying at the age of thirty-one. Yet, in those years, he did more than most in a lifetime three times longer. To do his memory justice, Samuel 'Kink' Kinkead has Julian Lewis as the storyteller who brings an extraordinary life into focus ... It is not just about air warfare in its earliest days – although Julian Lewis turns a forensic historian's mind to some new facts and assessments – but also long-range aviation and the quest for speed in the 1920s ... Julian Lewis's detective story is worth a book in its own right ... Kinkead seems to have been an intensely personal man who left little in the way of letters or even notes ... It is by telling the story of this extraordinary pilot in the context of the campaigns that the book gains its depth ... Julian Lewis's book brings Kinkead alive and reveals facts about early aviation that have for too long been kept in dusty archives.
Eastern Daily Press (Kieron Pim) – 9 July 2011:
Kinkead enjoyed spectacular success as a pilot in war and peace and yet, until now, has remained a strangely shadowy figure. Part of that, I suspect, is due to the absence of any private papers, a near-fatal curse for any would-be biographer, though not in this instance. Julian Lewis has worked wonders in exhaustively plundering every available documentary archive and resource to plug a gap in our aeronautical history ... It is a great story, very well told ... Like a shooting star, the six-times decorated Kinkead had blazed a trail across the world's skies, only to fade from view. Now, at last, one man's painstaking investigation has ensured that tantalising reflections of this dazzling career will burn into a new era.
Aeroplane Monthly (Philip Jarrett) – July 2011:
A very complete account of an outstanding airman's flying life, and three eight-page sections of well reproduced monochrome photographs, useful appendices and a comprehensive index complete an absorbing book. [Rated: 'Excellent']
Defence Viewpoints (Roger Green) – 2011:
This book provides a fitting tribute to the life of one of Britain's greatest pilots who has been largely erased from the national memory. It also provides an authoritative and detailed account of the military issues and politics of the campaigns in which Kinkead fought, as well as the story of the High Speed Flight and Kinkead's participation that led to the UK becoming the outright winner of the Schneider Trophy. The book is exceedingly well researched and despite being largely factual, it is written in an easy style that will appeal to both the aviator and the military historian.
Speedreaders.info (Sabu Advani) – 2011:
Lewis brings an academic's rigor to the task of unearthing details through the use of primary sources such as war records, diaries and news reports, and, regarding the crash, the two official investigations – which are found to be incompatible with each other and with the facts. Most satisfyingly for the reader, Lewis embeds the particulars of Kink's military campaigns (Western Front, Russian Civil War, Iraq) and other flying activities into the broader context of strategy and policy. The 1926 RAF expedition from Cairo to Cape Town is placed in the context of the geopolitical ambitions behind long-distance and high-speed flying contests. The next sentence should be accompanied by a drum roll or fanfare because it is such a high-level achievement: despite casting a wide net and touching upon many things the book remains focused on its primary narrative and also eminently readable, with fluid, engaging prose and compelling clarity of thought … Anyone with an interest in early aviation, anyone who can appreciate proper research, anyone with an imagination cannot fail to get something out of this book.
Cross & Cockade International (George Miller) – Summer 2011:
... Published to coincide with the 75th anniversary of the first flight of the Spitfire, this deeply researched book is as much a history of the wars in which Kink fought, as a biography of the man himself ... And what a life he led! His decorations say it all. An interesting book about a remote and under-researched period, and also about a lovely man.
* * * *
AMAZON REVIEWS
Amazon review – Group Captain David Baker MBE RAF Rtd – 9 May 2011:
Inspiring well-researched story of an outstanding pilot and man: Julian Lewis has researched the life of this little known flyer, revealing a pilot of outstanding skill and cool bravery as well as an inspiring leader. All this is set in context of the historical significance of the fighting in Gallipoli, the Western Front and during the Russian Revolution. The final chapters about the Schneider Trophy competition explain the boldness of the decision to compete in the face a national financial crisis, help us to understand the exhilaration of flying aircraft which pushed out the boundaries of flight, and examine in detail the causes of that last fatal flight. Julian Lewis has written a compelling book about the personalities and the development of early aviation.
Amazon review – Phil Shanahan – 22 July 2011:
Perfect tribute to daredevil pilot: Julian Lewis was on his first trip to the New Forest constituency he was later destined to represent as MP, when he chanced upon the grave of Samuel 'Kink' Kinkead. Julian noted that the young Flight Lieutenant had won the DSO, DSC and DFC. He was also deeply struck by the fact that Kink had been killed in an attempt to break the world speed record. Standing beside the grave of that great but unsung hero, Julian decided he would one day write a book in celebration of a man who should never be allowed to fade from memory. Racing Ace is the compelling result. Written with passion and in great detail, it brilliantly captures a pilot whose real-life exploits put Biggles in the shade. The book illuminates one of the most colourful characters of the First World War and spills new light on the times in which he operated too. Racing Ace is a remarkable tribute to a remarkable man.
Amazon review – R. Moore – 2011:
Inspirational: I recently joined the New Forest Aviation Group and, fortuitously, was present for Julian Lewis's presentation on Sam Kinkead. He prefaced his talk with the fact that it was unfortunate to begin with the fact that 'Kink' had died in 1928. However, having read the book, I can only say that Julian Lewis has brought this incredible character to life, and presented us with a fascinating account of a real-life 'Boys Own Paper' hero who, like so many of his kind, was modest and self-effacing but who also had the natural ability to elicit tremendous respect from his peers. If you have the slightest interest in the history of aviation, I can unreservedly recommend this book.
Amazon review – Dr. John Shelton – 22 March 2011:
A story that needed telling: As the author of Schneider Trophy to Spitfire, I had the occasion to be in contact with Dr. Lewis and was impressed by the careful research that appeared to be going into his book. Having now read it, I am not disappointed and admire the amount of information he has gathered about a very self-effacing pilot who (unlike most Schneider Trophy pilots) has left no written records behind. Julian Lewis has admirably unearthed the details of how 'Kink' won his impressive number of gallantry decorations and comprehensively shown what an outstanding RAF officer he was. Whilst it will probably remain a mystery as to exactly how he came to die in the S-5 record attempt, our author has supplied the fullest information from contemporary sources but has (wisely, I think) allowed the reader to draw his own conclusions. Kinkead's story has been waiting to be told and Lewis has not let him down. Full marks.
Amazon review – John – 2011:
The Western Front has given rise to numerous stories of heroism, gallantry and struggle however this story deserves to be singled out. Racing Ace is the tale of Samuel Kinkead, receiver of six decorations for gallantry as a fighter Ace not only on the Western Front but also in the Russian Civil War. Narratively, the book switches from Kink's action-based adventures to contemporary debates on strategy and policy at the highest level in the armed forces. Through engrossing prose accompanied by intriguing maps and images, the tale of the flying ace Kinkead is revealed through chapters dealing with his presence in Iraq, Cairo and ultimately his tragic death in [a predecessor of the] Spitfire witnessed by the people he fought to save. Julian Lewis's academic experience combines with the sixty-five previously unseen photographs to create a book that is emotionally and educationally gripping.
Amazon review – Paul – 2011:
Racing Ace tells the true story of Samuel Kinkead, nicknamed Kink, who was a decorated fighter pilot on the Western Front, in the Russian Civil War, the Aegean in 1916 and Iraq in the early 1920s. He was also later on an award-winning pilot for high speed flights, but this was his ultimate downfall as he was killed in 1928 at the age of 31 trying to break the 300 mph barrier. This book, with 65 photographs, gives us an insight into a man who ... was a skilled pilot in battle or competition [and also into] debates on strategy and policies in the Armed Forces, Parliament and the Government.
Amazon review – J William Thompson MD, Newport Beach, California – 2011:
A history of early 20th century aviation: Racing Ace, the biography of Flight Lieutenant Samuel Kinkead, is more than the story of the remarkable achievements of one distinguished man. It is also the history of early military aviation and international high speed flying competition. Thoroughly researched and annotated, it is the product of years of effort by its author, Dr Julian Lewis, Member of Parliament and defense expert in his own right. I highly recommend it to readers on both sides of the Atlantic.
* * * *
BLOGS
www.destructive-music.com (Steve Earles) – December 2012:
Speaking of the human aspect of the Great War, Racing Ace is all about one of the great characters of World War One, Samuel 'Kink' Kinkead. It's not surprising that such a large conflict would throw up so many larger than life characters; but, my God, I tell you, Kinkead's short but spectacular life would make an incredible film or documentary TV series (any producers reading this should seriously consider contacting Pen & Sword). No review could do Kinkead's life justice, the entire book needs to be read (a decision that won't be regretted), but in brief: Kinkead won six decorations for gallantry on the Western Front in the Great War and the Russian Civil War … Julian Lewis has written a splendid book, beautifully illustrated with over 60 photographs, many never published before. While, unquestionably, this book will appeal to those with an interest in planes, the Great War and the Russian Civil War, it would appeal to anyone who loves a well-written book about a fascinating man, and, in an ever-more cynical age, the example of Kinkead's courage deserves the widest possible audience, for heroism and courage are as important now as they were then. Highly recommended.
www.ww2talk.com (Peter Clare) – March 2011:
Just finished the above book and although the period – WWI and the inter-war years – is not my usual area of interest, I can say that it is written in such a way that it is most enjoyable to read, well researched, fast-moving and the reader wanting to know what 'Kink' will achieve next. As for 'Kink' Kinkead, he was a quite remarkable man, leaning his flying combat skills in the Dardanelles and honing them on the Western Front before moving on to Russia where he earned his DSO. In 1928, as a member of the RAF Schneider Trophy team, Kinkead was killed in a crash, aged 31, as he attempted to break the world air speed record in a Supermarine S5 – the forerunner of the Spitfire. Leaves one wondering what this remarkable aviator would have achieved with WW2 looming, had he lived. Real 'Boys Own' stuff, for boys of any age. A book I would recommend to all those who have an interest in aviation history.