Defence spending must be set in historical context, says Julian Lewis
The House Magazine – 12 November 2018
The extra one billion pounds (£200m in 2017/18 and £800m in 2018/19) allocated to Defence by Philip Hammond's Budget is a welcome sticking-plaster on a gaping wound. We have made modest progress in the foothills, but we still have a financial mountain to climb, if our country's safety is adequately to be resourced.
Of the 25 inquiry reports produced by the Defence Committee and its Sub-Committee in the past three years, there is one to which I repeatedly return. Shifting the Goalposts? Defence Expenditure and the 2 per cent Pledge was published in April 2016 and mainly examined whether the Cameron Government had 'fiddled the figures' in calculating the proportion of GDP invested in the UK's Armed Forces. It concluded that, although the accounting criteria fell firmly within NATO's existing guidelines, items such as war pensions – permitted, but previously excluded – were now being used to pad-out the data.
Yet, the report's enduring interest lay in two Annexes, scrupulously compiled by our professional researchers and setting out exactly what percentages of GDP had been assigned to Defence and to three other high-spending Departments in each financial year from 1955/56 to 2013/14 – the latter comprising the most recent figures available at that time. On page 39, all the findings were plotted on a single chart, now reproduced:
Comparative study of expenditures as a percentage of GDP, 1955–2014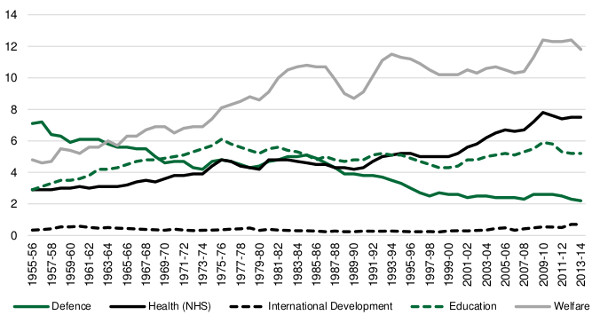 The vertical axis shows the percentage of GDP spent on Welfare, Education, Health, International Development and Defence, in each year specified along the horizontal axis at the bottom of the chart. These are the stand-out findings:
1) In 1963, the rising graph of Welfare spending crossed the falling graph of Defence expenditure. We were then investing 6 per cent of GDP in each. Now we spend 6 times on Welfare what we spend on Defence. Of course, 1963 was a long time ago.
2) In the mid-1980s, however, we were still spending similar sums on Education, Health and Defence. We were then investing roughly 5 per cent of GDP in each. Now we spend 2½ times on Education and nearly 4 times on Health what we spend on Defence. The mid-1980s were the last time – until recently – that we faced the threats both from a strongly assertive Russia and a major terrorist campaign (then Irish republicanism, now Islamist fundamentalism).
3) In more than half a century, from the mid-1950s to the end of the Blair Government, we never spent less than 2.3 per cent of GDP on Defence, and usually considerably more. For example, as late as the financial year 1995/96 – more than six years after the fall of the Berlin Wall – we were spending fully 3 per cent of GDP on Defence, not just the NATO 2 per cent minimum that we barely manage today.
4) Since the requirement to spend 0.7 per cent of GDP was enshrined in law, we have effectively been obliged to spend about £1 on Overseas Aid for every £3 spent on Defence, given our current Defence budget of less than 2.2 per cent. International Development is virtuous and confers 'soft power' benefits upon us; but is it really one-third as important in our scale of national priorities as keeping our country safe militarily? The answer is (or should be) 'No'.
Indeed, the extent to which our national priorities are now out of kilter has been demonstrated most recently by the Government's apparent rejection of calls for an uplift of £2 billion annually for Defence, whilst Health is to benefit from an annual increase of £20 billion. The Modernising Defence Programme – wisely removed from the National Security Capability Review process by Gavin Williamson, in order to prevent further cuts in conventional forces to fund necessary increases in the Security budget – remains incomplete at the time of writing.
Everyone knows that, if the worst happens and a major conflict involving the UK breaks out, money for Defence will become unlimited. Yet, how much better it would be to invest a fraction of such resources, right now, to help deter aggression in the first place! When Shifting the Goalposts? was debated in the Westminster Hall in October 2016, reference was made to the famous 1909 campaign for more Dreadnought battleships, under the slogan "We want eight – and we won't wait!". The settled view of the Defence Committee is that too little is being spent, in GDP percentage terms, on the Armed Forces. Today, our banner reads: "We need three – to keep us free!"