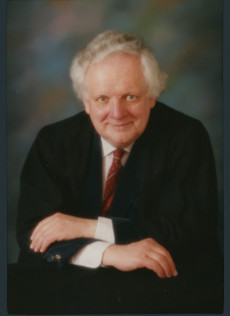 By Julian Lewis
Memorial Service, Mansfield College, Oxford – 1 September 2018
Funeral Service, St Marylebone Crematorium, East Finchley – 28 June 2018
It was in 1970 that I first set foot in the Royal United Service Institution, as the RUSI – Whitehall's world-famous Defence think-tank – was then known. There, as a sixth-form student about to enter Balliol College, and trying to equip myself intellectually, I was handed what were described as two recent outstanding studies. One, on Britain's Reserve Forces, was by Charles Douglas-Home, who later became the Editor of The Times. The other, entitled British Arms and Strategy, was by Neville Brown – then teaching at Birmingham University.
Having read it, I was determined to make his acquaintance and this occurred the following year, when he willingly accepted an invitation to address the Defence-minded students who comprised the Oxford University Strategic Studies Group. It immediately became obvious that here was a man, expert in his field, who exuded calmness, kindness and academic generosity. He addressed us youngsters as if we were his equals (which, manifestly, we were not), and patiently dealt with our questions and queries as if he hadn't heard them all a hundred times before.
Neville was a natural teacher who wore his knowledge lightly. He was genuinely interested in helping students develop their careers even if, like me, we were at other universities. His standards were high – as was the conscientiousness of his approach. When the time came for me to apply for a postgraduate Grant from the Social Science Research Council, it was natural to turn to Neville for a reference. I rang him at home:
"Of course,"
he said.
"But I'll need you to send me six recent essays, on which to base my testimonial."
Not many academics with a workload like his would have put themselves out to help a casual acquaintance.
And Neville's workload was phenomenal, as some two dozen major books and studies amply confirm. A few of these were written in partnership with such prominent figures as the late Donald Cameron Watt and Anthony Farrar-Hockley – the one an Official Historian and the other a formidable and gallant soldier. Yet, there was an extra dimension to Neville's work which became more and more evident over time, as his Cold War preoccupations with Strategy broadened into the wider dimensions of Astrophysics, Geophysics and ultimately Cosmology.
I have always thought it a pity that Neville did not become a broadcaster. With his wonderful, soothing voice, and his unflappable demeanour, he would have been a natural communicator over the airwaves. It is often said of successful statesmen that they have the ability to make whomever they are talking to feel the centre of attention. Neville had that quality, because he genuinely cared about other people and took pleasure in their success.
Unlike him, I have managed to produce only two books – and even one of those was just the published version of my dissertation. The other one came out in 2011 and was the biography of a courageous young airman, buried in my constituency, who won six gallantry decorations in the First World War and the Russian Civil War before losing his life trying to break the world speed record in a forerunner of the Spitfire in 1928.
In agreeing to write a pre-publication endorsement, it would never have crossed Neville's mind not actually to read the manuscript, from beginning to end, before putting pen to paper in support of my book. I can still picture him, cheerfully giving up an entire afternoon in my rather cluttered parliamentary office, as he settled down for about three hours to do the reading on which to base his three-sentence evaluation. I think that, by any standards, that is what you call academic integrity.
Once or twice, in recent years, I returned the favour; but, such was the breadth and depth of Neville's intellect, scholarship and wisdom, I always felt unequal to the task. It is a measure of that breadth and depth that someone who made his name is the worlds of Strategy and History should have been honoured with a Fellowship of the Royal Astronomical Society. In truth, he was equally a scholar of science and society.
Here are some extracts from just a few of the commentaries from those who have examined Neville's most recent work:
"

Professor Neville Brown has written a magisterial book on current relationships and debates involving astronomy, philosophy, and theology … he has produced a work that has sweeping implications for social and political policymaking. Political, religious and civic leaders – world-wide – would do well to heed this book's message." (Professor Milton Cummings)
"One can always be certain that any book by Neville Brown will exhibit breadth and depth … It is rare to find an author who is equally comfortable with modern astrophysics as with the motivations of the ancient world." (Professor Yvonne Elsworth)
"On the basis of a lifetime of scholarship and an eye for the fascinating and amusing, he offers a sweep of history, culture and science that is as breathtaking as it is riveting." (Professor Michael Clarke)
And my favourite, from Professor John Hedley Brooke:
"The interdisciplinary coverage of the book is extraordinary and rather exciting … Yet, in a sense, there is a simple directness in its ultimate propositions that it is a privilege to be a human being … "
It is a measure of one's success as a human being that relationships are forged which are profound and enduring. Although I met Neville in the 1970s, I never knew him at a time before he shared his life with Yu-Ying. Clearly, their happiness together was a great part of his inspiration. And we shall learn from his literary secretary for four decades – Jill Wells – a little later, how a professional relationship could be similarly long-lasting and academically productive.
I strongly suspect that there are very many others who were touched by Neville's warmth and humanity: for them, as for me, it was an enriching experience.
[For Neville's Obituary in The Times, to which Julian and Professor Michael Clarke largely contributed, click here and here.]