Reviewed by Julian Lewis MP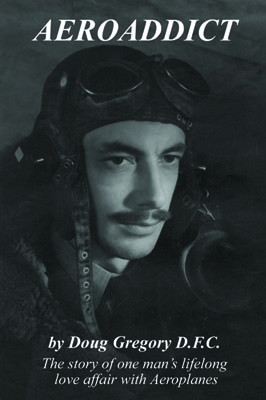 Doug Gregory is one of the two airmen I know who hold the Distinguished Flying Cross. They have three features in common. First, and obviously, they have put themselves in peril. Secondly, they are diffident about their gallantry award. Finally, in later life, they act on the basis that they have been living on borrowed time – ever since surviving the dangers that they faced.
Generations of Noadswood School pupils think of Doug as a much-respected Art master. His memoir, Aeroaddict, will open their eyes to something else: his "lifelong love-affair with aeroplanes". His is a flying career in two distinct halves – as a night-fighter pilot over occupied Europe and, decades later, as a display pilot in a replica Great War biplane which he built in his back garden, on retiring from Noadswood, and flew at air-shows until the age of 90.
I once asked his long-suffering – but forthright – wife Liz whether she worried that something might happen to Doug at high altitude when he was in his eighties: "What better way for him to go!" was her instant response. This was a mild reaction compared to that (caught on TV, a few years ago) when she discovered, at Popham airfield, that he had taken-off on a cross-Channel flight for a Great War event with their car-keys still in his pocket ...
Aeroaddict is thus not one story but two. From Doug's point of view, the central narrative is how he came, with the help of the Light Aircraft Association, to construct a latter-day version of the famous SE5a biplane. Originally designed by H P Folland, it was reckoned to be one of the finest single-seat fighters to see action on the Western Front. Doug's project took four years and there is plenty in these pages to fascinate do-it-yourself aero-engineers. His tale is laced with wit and not a little black humour. There was the engine test, when the cat next-door "vanished and was not seen for the next two days ... The neighbours said 'Will you be doing that again?' I felt I'd better not."
Then there was "the teacher who said: 'He's building his own coffin' ", but Doug was sure of his workmanship:
"Damn it, I had flown plenty of aeroplanes before, some of which I'd known very little about. This was different: I brought this one into the world, stick by stick, bracket by bracket. It looked good and it felt good and I felt at home in it ... I waved the chocks away ... All my intentions of fast taxi runs vanished. It wanted to fly, so who was I to say no? ... The date was 16 September 1987 and I was happy."
Yet, for the general reader, the core of the book consists of the wartime story, set out by way of flashbacks, illustrated by Doug's own narrative poems and intertwined with the account of his post-retirement adventures. This is the record of an aviator who flew some 90 aircraft in England, Scotland, Africa, India and, most hazardously, over Nazi-occupied Europe.
Those were the days – and nights – of primitive airborne radar, operated by Doug's navigator in Beaufighters and Mosquitos, the late D H 'Steve' Stevens. Both Doug and Steve were commissioned from the ranks and both were awarded the DFC on completing their consecutive double tour of 69 sorties between March 1943 and October 1944.
Like so many of his generation, Doug left school at fourteen, finding employment as an office boy in a law firm in Southampton. When war was declared on Sunday, 3 September 1939, he ran into a workmate in Regent's Park Road:
"We literally danced for joy for the war which we selfishly thought might break the monotony. I'm not sure whether I should be ashamed ... [He] was killed in the Western Desert a few years on."
Not until his 18th birthday, in early 1941, could Doug volunteer. He joined the RAF with two of his schoolfellows – learning of the death of one of them, Jim, a gunnery leader in a Lancaster squadron, just before VE-Day:
"[Jim] had to fill in if any crew was incomplete. He had done just that for a raid on Augsburg and never returned ... On VE-Night there was dancing in the streets. I tried to join in ... but my heart wasn't in it."
By then, operational service over, Doug was a test-pilot in India, investigating why the wooden Mosquitos were struggling to cope with extreme climate conditions. His flight home was epic, piloting a small passenger plane from Jodhpur to Munich, via Karachi, Bahrain, Shaibah, Lydda and the Western Desert:
"the whole coastal strip was one long junkyard. Broken tanks and lorries littered the route. Crashed and abandoned aeroplanes ... marked the Eighth Army's progress ... a metallic graveyard".
Next, from Tunis to Sardinia, Marseilles, Paris and finally Munich, after flying over Germany's shattered cities. Doug's last Service landing was on former enemy territory. There he witnessed what the Nazis had done:
"It is not fashionable, these days to talk of hate. Hate is an emotion to be suppressed, the same as the wish to destroy. In the 1940s, I hated with a deep-seated hatred. I wished to destroy with all the power I could muster. I hated the Nazis. I hated their creed, their swastika, their arrogance, their cruelty. I hated everything about them and I had an overwhelming desire to destroy them ... after visiting Dachau, I knew I had been right ... Many thinking people had the same outlook as me and many were determined to do something about it. I believe we all knew what we were fighting for, and what would happen if the Nazis took over."
At the end of the war he regarded himself as
"an overgrown office boy with still no qualifications, except the ability to kill. I had little to offer".
Nothing could be further from the truth. Doug Gregory's service to our country and community, as warrior, educator and aerial entertainer, puts us all in his debt. This modest memoir cloaks a dauntless and sensitive spirit – and one which will see him through a few more flights in the months and years to come.
--------------------------------------------------------
AEROADDICT by Doug Gregory D.F.C. (ISBN: 978-0-9927220-0-5) will be released by New Forest publisher, Little Knoll Press, on Saturday 9th November, with a signing event to which all are welcome, running from 10am to 12noon at The Herald, 6 High Street, Hythe.  The book will be available at £14.99 from booksellers and other outlets, and from Little Knoll Press. To find your local outlet you can go to http://www.littleknollpress.co.uk/ or ring publisher, Jenny, on 023 8084 2190.