75th Anniversary Memorial Service
All Saints' Church, Fawley
12 March 2003

Julian Lewis MP:
Reverend Barry and Friends,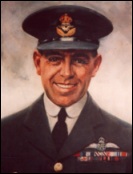 Today I see several familiar faces and it is hard to imagine that already five years have gone by since we met to commemorate – for the first time in a very long time – the anniversary of 'Kink' Kinkead's death. I don't propose again to outline the story of his life because, I am glad to say, almost everyone here today is probably familiar with it and the main events have been set out on the sheets which you have. What I would like to do is to recount what has been happening in the five years since our previous commemoration of Kink's life and sad death.
It can be summed up in one word: "networking". The story of Kink Kinkead, so long after his death, has led to more and more new contacts, networking, new friendships. We heard mention of that in Barry's opening remarks – because Brigadier Bill Kincaid had never, until today, met the Kinkead-Weekes family; yet all Kinkeads are apparently related. Bill, who is working on a family history, had just reached the point where he was wondering how to get the facts about the famous aviator. Then we came in contact and the problem was solved.
Some of you may remember that one of the most dramatic parts of Kink's story was the period in 1919 and 1920 when, having survived the horrors of the Western Front, having won the Distinguished Service Cross twice and the Distinguished Flying Cross twice on the Western Front, he volunteered to fight the Bolsheviks in Russia during the Allied Intervention.
We have since discovered that, back in 1960, a book written by an American called Marion Aten was published. He had posed as a Canadian so that he could sign up to the British war effort in the First World War, but had not seen much action – having crashed and broken his arm. However, he was virtually press-ganged into going out to Russia by Kink and Ray Collishaw, the famous Canadian ace. Aten's book, Last Train over Rostov Bridge, has Kinkead on virtually every page: although only a Flight Lieutenant, Kink was in charge of an armoured train, full of Sopwith Camels, which ranged up and down the Russian front. The adventures of his flight really defy belief, and they escaped by the skin of their teeth.
As a result of finding out about this book I was able to track down in America the nephew of Marion Aten, Mr Gary Radder and his wife Jeri. I was able to meet them, make new friends and learn more about his uncle's role in Kinkead's story. Gary and Jeri have generously contributed to the cheque which we are presenting today.
I hope that all these strands will come together in five years' time, when it will be the eightieth anniversary of Kink's last flight: by then I aim to have completed a pictorial biography of his life.
Some of you will know that the Kinkead-Weekes family very generously presented to me as a memento of the work I've been doing on researching his life, the set of his miniature medals. They are displayed here, and I intend that eventually they will be on permanent loan in a public place so that other people can look at the medals together with the picture of Kink wearing them at the celebration dinner on his return from the Schneider Trophy victory in 1927, just six months before he was killed attacking the World Speed Record.
I close with something I thought quite inspiring: it was a phone-call arising from what we did five years ago in setting up the Kinkead Room in the main hangar at Calshot. Those who have not been there for some time I would urge – when next in the area – to go to the Visitor Centre and ask to see the Kinkead Room. The entire wall is now covered with the story of every phase of Kink's life: from the Western Front to Russia, to the Schneider Trophy, and the sad, final, fatal attempt at the World Air Speed Record in which he died 75 years ago today.
The telephone call was from a member of the team of one of the yachts taking part in the BT Global Challenge 'Round the World Race. She was ringing up because they had been training in the Kinkead Room. They had been team-building and they were so inspired by the story that they had read, and the accounts of his bravery on display, that they wanted permission from the Kinkead family to include at least the spirit of Samuel Marcus Kinkead as an "honorary extra member" of their team when they sailed around the world. Needless to say, the family was delighted to oblige.
It is, therefore, a fact that the story of Flight Lieutenant Kinkead still inspires people who are doing brave things, so many years after the event; and the fact that one of Kink's medals was for service in Iraq – in Kurdistan – gives us cause to realise, on the eve of another campaign in Iraq, that individuals may die but valour never dies.

Professor Mark Kinkead-Weekes:
We gather this afternoon in memory of an uncle I never knew, since his ill-fated attempt on the World Air Speed Record happened just three years before I was born – but I was christened in his memory and am proud to bear his name. My whole family joins me in thanking the Reverned Barry James and his Church, and Julian, for suggesting a more lasting way of honouring Kink's memory: by having All Saints' floodlit every March 12 for the foreseeable future.
We are also grateful to our friend Julian for doing so much to revive Kink's memory – he is, as we hear, scholarly historian quite as much as politician, and equally enthusiastic in both – and we thank him and Captain Aten's relatives for joining us in the donation that makes this possible. It will help to overcome an irony inherent in all attempts at breaking records. These are battles of speed against time, but even if the attempts succeed (as Kink's so tragically did not) slow, terrestrial time always wins in the end.
Records, as the saying goes, are made to be broken, and even successful record-breakers may soon be forgotten. But what should not be forgotten in Kink's case, however, are the qualities he showed in abundance throughout that brilliant career that Julian has written about and referred to: his extraordinary skill, daring and heroism as a pilot – I often said to myself that he remained a Flight Lieutenant because he was not altogether amenable to discipline and did some daring low flying that was not exactly called for by his superior officers – but also his abiding determination and friendliness, and modesty by all accounts as a person.
These are, I think, what we are really honouring. The little school I went to in the western Transvaal had, as its motto,
"Justorum Semita Lux Splendens"
– the narrow path of the just is as a shining light. And we are very happy today that Kink's flightpath of bravery will be seen every March 12 as a shining light also: shining upon this lovely Church.
[Presentation and applause]