By Julian Lewis
Southern Daily Echo – 3 July 2000
On 13 April, during a debate on Armed Forces Personnel, I took the opportunity to advertise the new memorial commemorating the 6,000 members of the Royal Naval Air Service and Fleet Air Arm who lost their lives defending this country during the two world wars and various lesser conflicts.
In closing my speech, I told the story of 13 of them who sacrificed themselves on 12 February 1942, when the Nazi battle-cruisers Scharnhorst and Gneisenau, the heavy cruiser Prinz Eugen, destroyers, flak ships and E-boats – covered by hundreds of modern fighter aircraft – sailed up the English Channel in broad daylight to the safety of German waters.
Six elderly Swordfish biplanes, each armed with a single torpedo and with a top speed of 90 knots, chased after a fleet retreating at 30 knots. Inevitably, all were shot down – but not before carrying out their suicidal attack.
The Channel Dash heroes have passed into legend. Admiral Sir Bertram Ramsay, Flag Officer in Charge, Dover, signalled to Whitehall:
"In my opinion, the gallant sortie of these six Swordfish constitutes one of the finest exhibitions of self-sacrifice and devotion to duty that the war has yet witnessed."
Lt. Commander Eugene Esmonde – who led 825 Squadron into the attack – was posthumously awarded the Victoria Cross. He had only just been invested with the DSO for his role in sinking the battleship Bismarck.
Incredibly, five crewmen from two aircraft survived – they were rescued by two British motor torpedo-boats whose crews had witnessed the heroic attack. Four of the five were wounded, three severely, and three of the five would undoubtedly have drowned as their dinghy was destroyed before their plane came down.
After my speech, my good friend Norman Richardson, himself a telegraphist/air gunner decorated in the war against Japan, put me in touch with the four 'Channel Dash' airmen who survived the war. Three live in Britain; the fourth, 'Mac' Samples, settled in Canada after a successful post-war career in HM Diplomatic Service.
Last week, I had the privilege of introducing Pat Kingsmill DSO, Edgar Lee DSO, Donald Bunce CGM, as well as 'Dickie' Richardson DSM and their wives, to Betty Boothroyd after lunch in (appropriately enough) the Churchill Room at the House of Commons. All these heroes are now almost 80.
Madam Speaker told them that, without what they and their comrades had done, we would not even have a Parliament. She added that, with her views, she'd have ended up in a concentration camp: "We'd have been there right alongside you!" replied Pat Kingsmill.
When I first read of their deeds as a teenager, I never dreamt that one day I would welcome these heroes to Westminster to show that what they did is still revered. One went on to be a schoolteacher and head; another to be an NHS administrator; a third, a consul-general. What might all the others have achieved, if they had not given their lives 58 years ago for the survival of freedom and democracy?
 
The picture below, taken on 28 June 2000, shows from left to right: Julian Lewis, Pat Kingsmill, Edgar Lee, Betty Boothroyd, Donald Bunce and Dickie Richardson.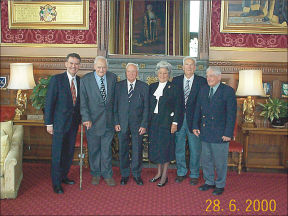 [This article was published in slightly shortened form, under the title 'In Memory of Fallen Heroes'.]
[Lieutenant-Commander Pat Kingsmill DSO VRD died on New Year's Day 2003. For his Obituary from THE TIMES, click here and from the DAILY TELEGRAPH, click here.]