Independent – 19 December 1992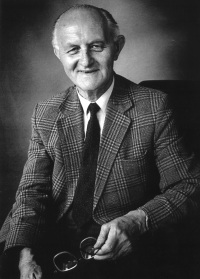 Dusan Plenicar belonged to that select band of Central and East European democrats who resisted Nazism and Communism alike and settled in Britain at the end of the Second World War. For four more decades, he worked tirelessly to undermine Communism in his native Slovenia; but he was no narrow nationalist. He passionately believed that Western strength was vital for his homeland's hope of freedom.
Under the nuclear stalemate, he fought the battle of ideas in the most practical possible way. His weapon was the printing press, and he used it with deadly and persistent efficiency. Stickers, leaflets, posters journals and academic quarterlies poured forth at phenomenal rates from his printing works.
A network of overt and covert channels took them around the world – often to the heart of the Communist empire.
Germany's April 1941 invasion of Yugoslavia had occurred a year into Plenicar's law course at Ljubljana University. The area was occupied at once and he was arrested within weeks.
Released as a result of faked papers obtained by his father, the 20 year-old joined a Slovene underground movement and became its principal propagandist and information officer. With the Gestapo closing in during 1944, he escaped to the hills with Mihailovic's Blue Resistance and remained in uniform until the German surrender.
Plenicar's known anti-Communism made exile inevitable. With his wife he settled in Bury in 1948, surviving as an ordinary textile worker by day, whilst attending printing classes at the end of his shifts. He edited Klic Triglava, the independent pro-democracy monthly on Yugoslavia. It became the organ of Slovene political refugees around the world and was published from the early 1950s until the mid-1980s. founding his own printing business (initially in a single room in north London) finally gave him the means to produce all his own material.
Since 1948, he had also organised the Slovene Justice circle, made up of educated refugees from the Services. It was strengthened in 1956 with the arrival in Britain of the future Glasgow University economist, Ljubo Sirc, after long years in prison, with the commutation of his death sentence in Slovenia.
Plenicar and Sirc at once joined forces – planning, in such groups as the Democratic Alternative, the reconstitution of democracy in Yugoslavia. By the late 1970s, until the British put a stop to it, Tito's secret policemen were shadowing Plenicar's movements and threatening his family.
In 1978 appeared the heavyweight South Slav Journal, dealing with all aspects not only of Yugoslavia but also of its neighbours. Five years later, the Centre for Research into Communist Economies was founded, with Lord Harris of High Cross as Trustee.
The series of heart attacks which Plenicar suffered under the massive burdens he willingly undertook did not deter him from pressing on. Sustained by his devout Catholicism, he made widely reported interventions in the Slovene election campaign – urging unity upon the moderate centre parties.
He died suddenly, just before the election, still doing his utmost to limit the malign influence of the remnants of Communism.
JULIAN LEWIS
* * * *
Franc Dusan Plenicar, printer and political campaigner, born Litija central Slovenia 2nd June 1921, founder and managing director Pika Print Ltd, Enfield 1964-92, married 1945 Elizabeth Grom (one daughter), died Enfield, 4th December 1992.